PVZCC Mod is a Mod that some Plants and Zombie is changed into Fanon Plants from this wiki.
PVZCC Mod

Created By ShutUP Guy14

Proggres:

40%Done

Information:

This mod Contains Fanon Plants!(Note: I only Change the appereance!)

Release Date:

???

Download Link:

Not Available yet.

Price:

Free.
Wall-Nut > Trollface-Nut. (100%Done)
asdadsd   ,, , , ,
peashooter > invinca pea,can never be eaten or destroyed (100% Done)
Torchwood > lavawood,does 100% more damage than regular (100%Done)
Tall-Nut > Rageguy-Nut. (100% Done)
Gatling Pea > Gatling Pea, with a fire in each gatling gun barrel. (100% Done)
Melon-Pult > killer melon (100% Done)
Winter Melon > killer frost (100% Done)
Giant Wall-Nut > Giant Trollface-Nut (100% Done)
Marigold > roze,produces diamonds (100% Done)
Sunflower > warfare flower,shoots zombies with sun (100% Done)
Conehead Zombie > Giga Zombie,eats 10 times faster than regular zombie (100% Done)
Pogo Zombie >Goldilocks Zombie,doges all attaks except for melon pults (100% Done)
batman theme
The Phonograph changed into a Butter.
Explode-o-Nut and Giant wall N
ut will have Trollface-Nut Face.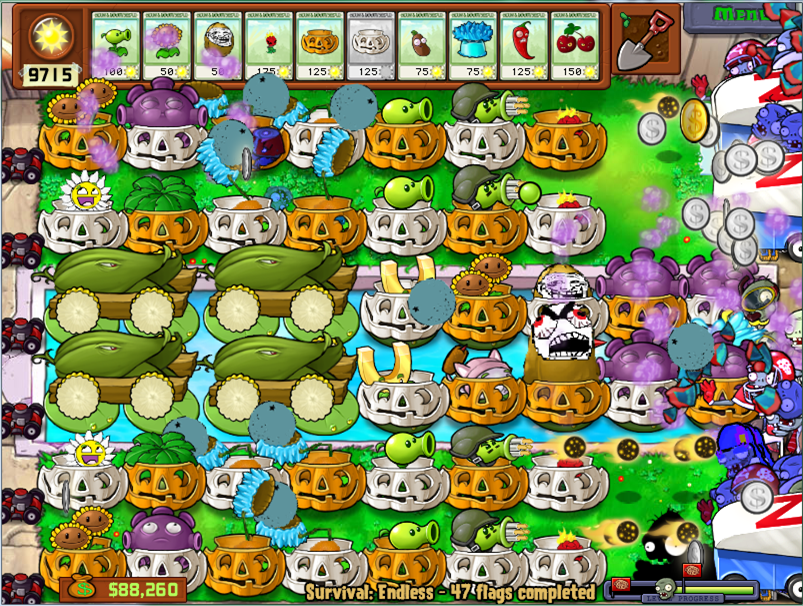 Suggestions
Edit
Leave your Suggestion at the Comment section.